Guide to Choosing a Manufacturing Partner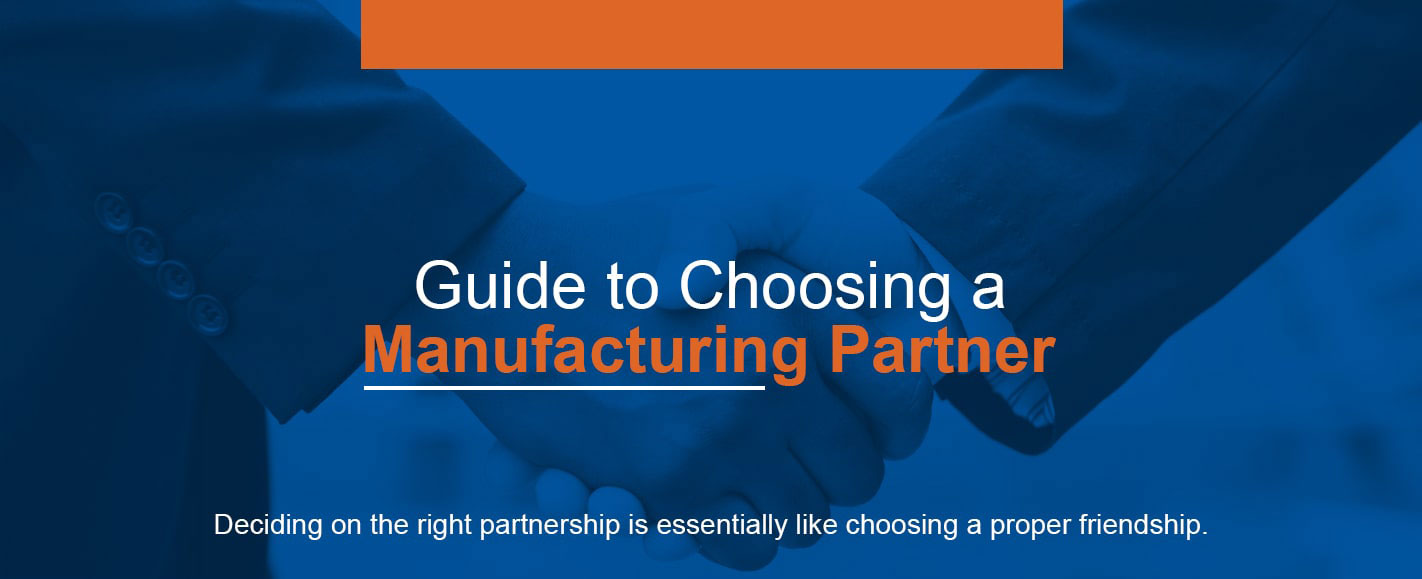 Deciding on the right partnership is essentially like choosing a proper friendship. The advantages of a healthy collaboration between your brand and contract manufacturers can help you both succeed in business objectives such as developing a new product, ensuring quality and staying within regulatory compliance. Maintaining a robust supply chain allows for maximum competitive advantage and transparency compared to other businesses that might try to handle every step of their operation in-house.
A partnership in business is a strategic collaboration between two or more companies that work beside one another to accomplish a common goal. The ideal partnership results in an alliance that can grow a business quickly and successfully with efficiency.
Benefits of a Manufacturing Partner
Manufacturing parts and products is no easy task. Their creation often requires many different processes happening at once. While all of this is going on, the big picture can get lost in translation amongst the many employees at different stations working hard to get the job done. Inaccuracies throughout the manufacturing process that do not align with the company's vision can make your product lose its competitive advantage.
These worries are why many companies choose to work with a manufacturing partner that specializes in cutting and fabrication. They focus on each step of your product's creation to ensure it is made to your specific expectations.
Why in particular should you consider working with a solutions-focused cutting and fabrication shop? There are numerous advantages:
First-rate parts and products: Specialists in the craft of cutting and fabrication understand how to prioritize tasks from the design stage straight through to completion. They can be more precise with requirements than attempting to create in-house.
Reduced stress: Coming up with a comprehensive manufacturing plan takes time. Your company likely has many operations going on at once, and allocating time properly is valuable for success. If you do not need to worry about overseeing every facet of the manufacturing process to ensure the proper specifications, you can relieve a lot of hassle out of your day. Since quality manufacturing partners handle all aspects of the process, you will never be unsure of the status of your project.
Reduced production time: Tight deadlines can be met much more easily with a manufacturing partner. A partner can ensure lead-times that will beat out the competition. A manufacturing partner's premium in-house equipment and professionals provide maximum efficiency and allow for a smooth process from start to finish. To keep up with demand, use the rush services some manufacturing partners offer. The rush service will likely cost extra, but it will expedite the entire process and have your order ready in as little as a day.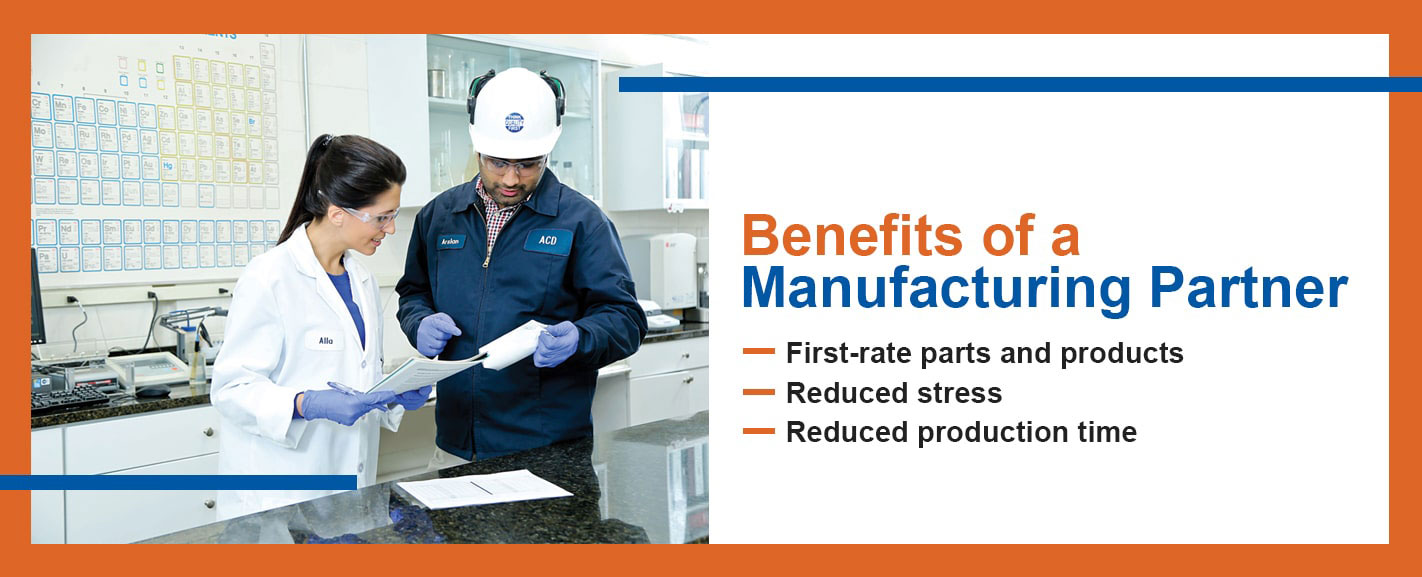 Reasons to Hire a Partner in Manufacturing
The manufacturing industry has evolved. Relationships between brand owners and their manufacturing partners have grown to the point where the term "partnership" is no longer just a word used for marketing purposes. This vocabulary is used more literally and is a more accurate reflection between what happens between brands and contract manufacturers.
In the past, companies would switch business partners to whoever had the lowest cost. It was a transactional relationship. Now, brands truly partner with one manufacturer, cultivate a genuine relationship and understand the indirect costs and implications that switching manufacturers can have.
If your company is beginning to struggle with keeping up with the ever-evolving customer expectations and sales environments, a strategic way to combat this fatigue is to start to broaden your horizons and develop strong business relationships.
The Manufacturing Process
What services can a manufacturing partner assist with? Laserfab works with clients to take care of every step of the manufacturing process, which includes:
Design: A finished piece can only be as good as the design it has derived from. Some may wish to have their part designed entirely from scratch, while others may have a concept that needs some input and modifications. Skilled design engineers can lay out a new idea, or help clarify these design concepts and make improvements where necessary. Working with a professional strengthens the product for a lower cost.
Prototyping: Creating exceptional prototypes allows manufacturing teams to work out any issues to ensure precision before they hit the ground running in future steps of the manufacturing process. Getting the prototype right provides cost effectiveness and maximum efficiency.
Cutting: Extremely specialized cutting equipment allows manufacturing partners to maintain precision no matter how complicated the part may be.
Forming and fabrication: Most projects require processes such as bending, welding, punching and many other types of building and fabrication. A common problem many companies face when trying to manufacture parts themselves is that they aren't equipped appropriately for these kinds of jobs. Experienced teams of professionals can ensure any forming and fabrication process can be achieved to make a vision a reality.
Assembly: Assembling products in the same place they were manufactured keeps everything together without having to bounce around to different facilities.
Delivery: Companies such as Laserfab also offer to ship almost anywhere and make sure parts get to their destinations quickly using inexpensive but reliable methods. Whether the piece is coming to you or directly to your customer, Laserfab can accommodate no matter the situation.
Instead of haphazardly getting processes done in whatever time your company can spare, our team of specialists communicates closely with your company to produce a quality result in any project. Project managers oversee the entire operation to make sure nothing is overlooked from start to finish.
Industries That Rely on Manufacturing Partners
Often, industries require premium metal and tin enclosures that their equipment may fall short of achieving. These types of specialized enclosures are usually used by industries such as:
Architectural
Industrial
Medical
Baking
Chemical Mixing
Power
You might find a handful of companies that claim they have the tools to create such containers. Laserfab differentiates themselves from the competition by finishing jobs more precisely and to the exact specifications set forth by clients and only making adjustments when communication is clear. Some more particular aspects that set Laserfab apart from the rest include:
USA-based manufacturing plant: Laserfab's headquarters is in Lebanon, Pa., and all of our products come solely from the United States. The centralized location means the orders we receive are processed and reach completion and delivery as fast as possible.
In summary, hiring a preferred partner in manufacturing such as Laserfab provides benefits such as unlimited customization options, a high level of support, immediate order processing, and acceptance of all orders regardless of size.
Choosing a Manufacturing Partner
Some cutting and fabrication shops may throw around the term "full service" pretty carelessly. Ensure you do external research and choose a company that provides all the manufacturing services you need. Consider what your specific goals are when choosing a manufacturing partner. While many manufacturers claim to be able to do many different projects, they often specialize in just a few.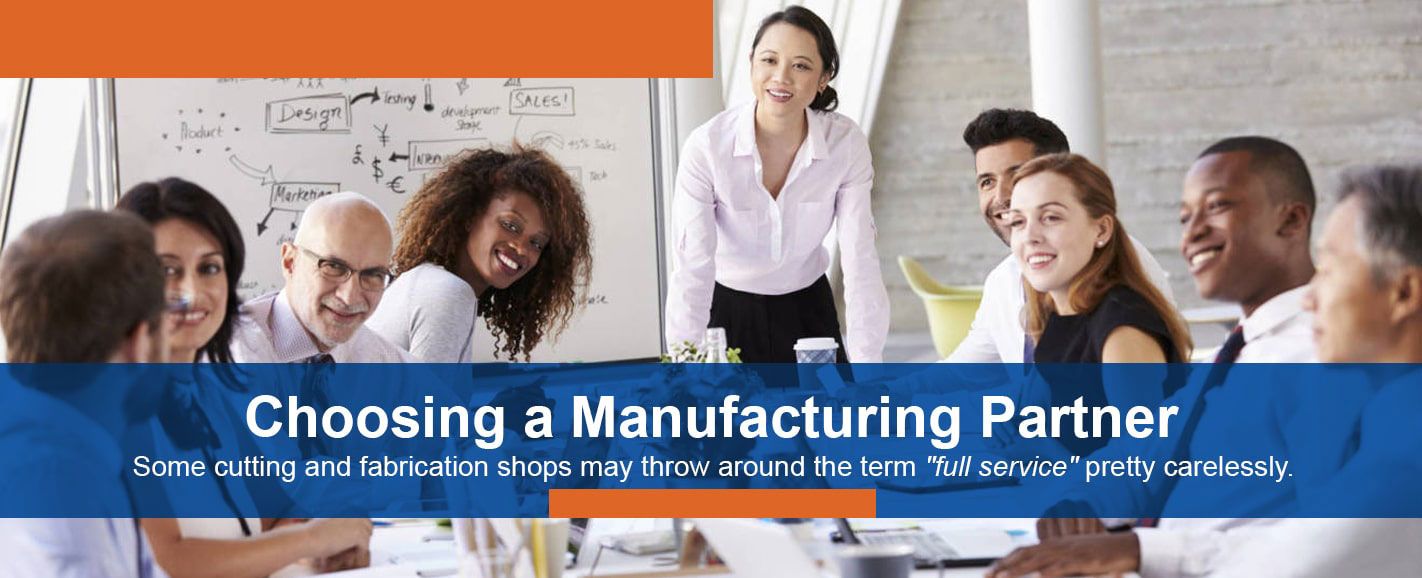 Are you looking for a partner that specializes in laser cutting services? Laser cutting is a material modification process that can provide better quality products compared to more traditional methods, which maximizes the benefits of laser cutting. Laserfab specializes in this strategy and backs up its powerful cutting centers with an experienced staff.
Communication and Cultural Differences
Ensuring your manufacturing partner is easy to communicate with one of the most critical aspects. There is no doubt that this industry involves complex operational functions no matter the particular project. Whether your job includes laser cutting, waterjet cutting, metal fabrication or some combination of methods, being sure that your manufacturer communicates and has a clear flow of information is essential for planning, engineering and upholding pristine quality throughout the work.
Unclear objectives can lead to a catastrophic failure. To keep the project intact and to your highest standards, make sure you choose a partner that resonates with you and has a similar voice.
Cultural difference plays into communication as well. Many different regions play by different rules and may use methods that your company is uncomfortable with. They also may not fully understand the particular regulations required by the United States market.
For example, Chinese businesses do not generally do some quick research and embark in a partnership with any company that appears to fit their needs on paper. Western companies focus on business and are more likely to jump into an immediate working relationship. Chinese companies, on the other hand, they emphasize solid personal relationships and are reluctant to work with someone they do not know well or trust fully.
If you call a manufacturer in China and discuss business, something that is normal and expected in the United States, there's a chance you will not get any further. They take this type of directness as impolite and uneducated about their culture. We all operate amongst our own culture's frame of reference. While they are doing the same thing by dismissing your requests just because you act differently, they likely do not need you as much as you need them. China houses almost 50 percent of the world's manufacturing companies.
If you believe that working with a company overseas is the right decision for your operations, be sure to do research and understand everyone's expectations out of a business relationship in that respective country.
What to Look for in a Contract Manufacturing Partner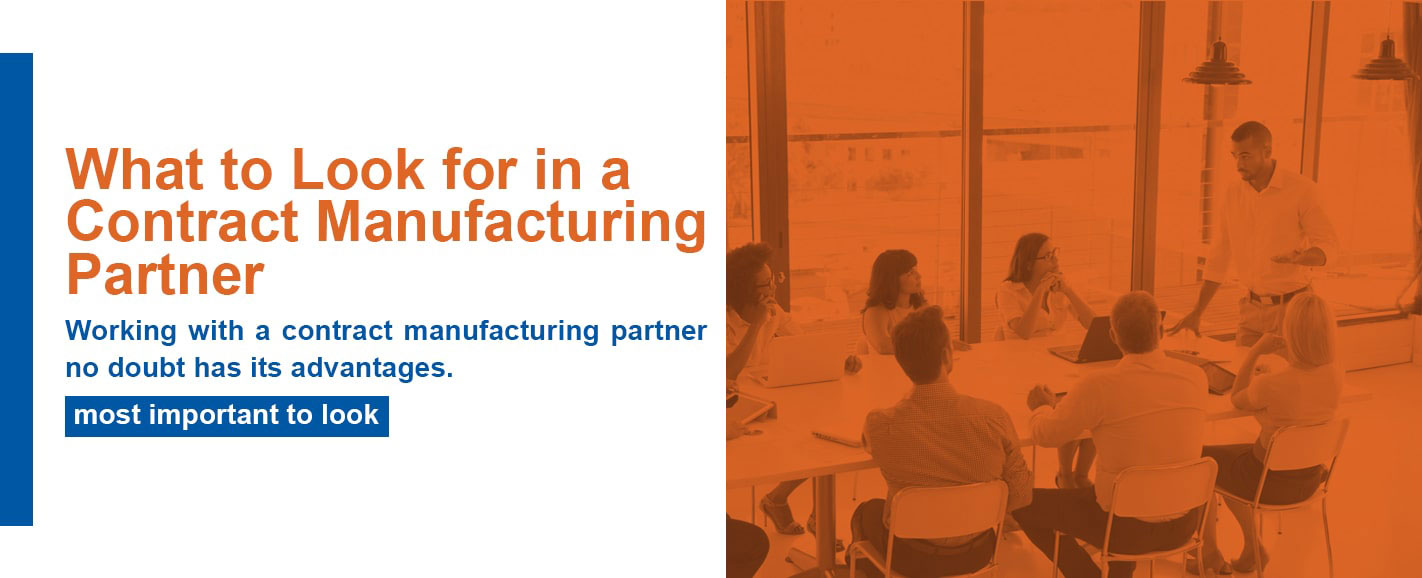 Working with a contract manufacturing partner no doubt has its advantages. But, it can also be a risk as you are opening up your operation to people you may not trust as much as your employees. Knowing what to look for in a contract manufacturer is tricky, but a few aspects are the most important to look into:
A well-established network of high caliber subcontractors: Consider an in-person visit with the business to gauge their integrity and reliability. If a trip to meet is too lengthy or impractical, consider contacting a client who has already worked with the company to see if they will vouch for their reputation. If you cannot find anyone who has engaged with the manufacturer before, that is a red flag in itself.
Advanced logistics capabilities: Getting the right price and getting the shipment on time are essential for business success. The last thing you want is to contact a manufacturer and have that decision result in more headaches through logistical and transportation issues. A good rule of thumb is to check out local manufacturers and work your way further out in the distance rather than immediately going for a cheap international contract manufacturing partner.
Established business with plentiful resources: The company you choose to handle your manufacturing needs should have all the equipment and materials to create a high-quality product from design to delivery. They should possess experts on each step of the process who can overcome any unexpected issues or challenges. Be sure to check what the company of interest specializes in, and what sort of reputation they hold in the industry.
Sustainable data system: Adjustments to a project are guaranteed. Will your contract data partner have the measures in place in their data system to assure complete accuracy no matter what changes take place?
Proven track record: A company that has an extensive history of positive reviews and experiences creates a reputation that can help ensure the success of future contract manufacturing jobs. If those who went before you were happy with their projects, it is likely that you will be as well. Taking the guesswork about whether what the manufacturer is saying is genuine makes your job easier and gives you better clarity about the decision. They also likely have a broader base of knowledge and understand where things go wrong and can better adjust accordingly.
Partner With Laserfab for Your Contract Manufacturing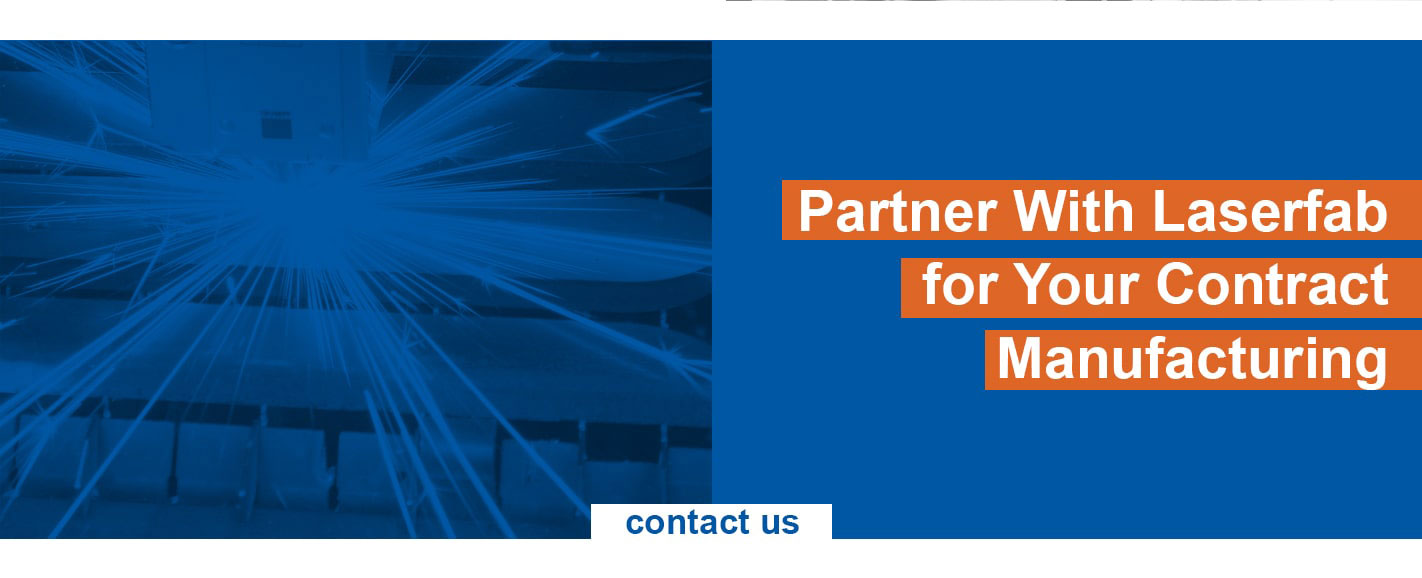 Proper analysis of what to look for in a contract manufacturing partner will help you form strong business relationships and stay ahead of the curve in your industry. If you're looking for a trusted manufacturer to partner within your supply chain, start your search by checking out what Laserfab has to offer in your specific industry. If you have any questions, don't hesitate to request a quote.