Guide to Outsourcing Metal Fabrication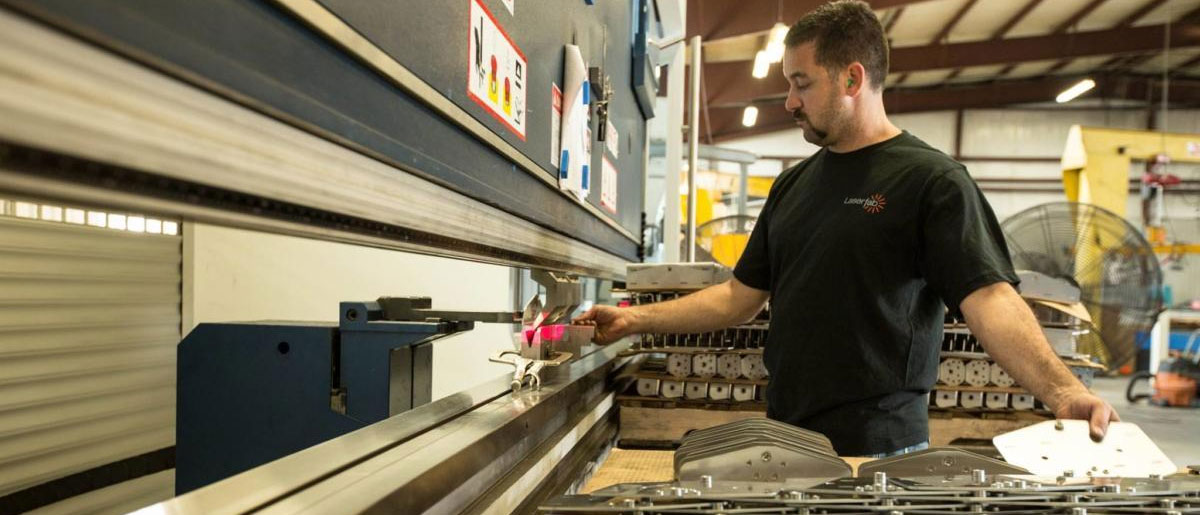 Instead of allocating your resources to too many things outside your level of expertise, you can hire third parties that are experts within a distinct field to complete the work. This fact holds particularly true for metal fabrication outsourcing. When you need parts, whether big or small, intricate or simple, outsourcing a metal fabrication manufacturer can deliver incredible benefits to your business.
Here is a metal fabrication guide to help you decide if outsourcing these services is the best choice for your company.
What Is Metal Fabrication?
Metal fabrication is a process that we all depend on more than you may expect. Everything from screws, cutlery and hand tools to parts for appliances, computers and cars rely on this technique. It's a process where different machines and methods manufacture sheet metal into specific shapes.
Through various methods like cutting, folding, welding, stamping and shaping, or even custom fabrication, which uses a combination of these techniques, Laserfab can create unique shapes to support a wide variety of industries. The particular metal fabrication process we use depends on the geometry of the part, type of material, usage and other factors to yield parts specific to your demands.
There is also a range of metals used in metal fabrication, such as aluminum, copper, brass, and steel. Many of these metal types can undergo most of the fabrication processes, but some have limitations. The technology used to perform metal fabrication includes computer-aided design (CAD) software, automation and machinery solutions.

How Does Metal Fabrication Outsourcing Work?
Metal fabrication outsourcing is when you rely on a third-party fabrication company to produce the parts you need. When you subcontract metal fabrication, it allows you to focus on more pertinent tasks within your business instead of investing time and money into obtaining additional expenses. These costs can include paying for raw materials, machinery, technology, expertise, trained operators and quality management that coincide with the fabrication process.
Having an in-house fabrication operation is a daunting task if you are not a metal fabrication business already. In comparison, when you have a metal fabrication contract for manufacturing with an outsourcing company, you gain benefits such as:
The expertise of the fabrication company
Ensured quality and first-rate parts
An increase in income
Access to metal fabrication resources and technology
Time and money allocated to more pertinent tasks
Reduced production times
One-on-one consulting.
Metal fabrication outsourcing is a strategy that can boost your bottom line and increase your income. When you need unassembled parts for specific applications in your industry, you can rely on experts to conduct metal fabrication.
In addition, outsourcing companies invest in the equipment, trained operators and raw materials instead of you, and they supervise quality management and fabrication. Because outsourcing companies often specialize in a single service, they will have years or even decades of experience working with different materials and techniques to fabricate customized parts.
Outside parties like Laserfab create fabricated goods that match your exact requirements within your budget and timeline to help keep your operations moving.
Choosing the Right Type of Metal Fabrication
There are several different types of fabrication processes and applications. Here at Laserfab we offer the following:
Fabrication: Includes various techniques to modify the configuration of existing parts. Metal fabrication is perfect for when you require customized solutions.
Laser cutting: Uses focused, high-intensity light via a continuous or pulsed beam to create a clean and accurate cut. Laser cutting is ideal when superior precision is key for parts.
Metal bending: Works with an electric, hydraulic or pneumatic press to bend sheet metal at specific angles like curls, flanges or corrugations.
Waterjet cutting: Produces a concentrated, high-pressure stream of water to cut raw materials and is often mixed with other abrasive particles for additional power. Our machines can produce up to 87,000 psi of water pressure that is best used for thicker materials and parts that can't withstand excessive heat.
Factors such as the raw material being used, the shape of the part you require and the intended usage will determine what metal fabrication process we implement. Through one or more of these processes and techniques, our experts can transform metal into the exact shape and size you need.
Finding a Reliable Contract Manufacturer
Partnering with a reliable manufacturer can help ensure that you're able to develop products, stay within industry compliance regulations and maintain high-quality standards. This collaboration can also help you remain a competitive force through strategic planning.
Consider these characteristics when choosing a metal fabrication company to partner with:
Lead times
Quotes
Prices
Customization options
Services available
Experience
Capabilities
Quality
Reputation
Subcontractor network.
It may also be helpful to ask yourself a few questions as you're searching for the best contract manufacturer, like:
What expectations do you have set?
Are you looking for high-volume parts or customization?
What are the metal fabrication company's capabilities?
What type of technology and machinery do they operate with?
What is their minimum number of orders?
Do they specialize in a particular material you need like aluminum or steel, or do they work with a range of materials?
Conduct enough research to determine whether the company can provide the manufacturing services that match your particular needs. Experienced companies like Laserfab with the resources and latest technology needed for metal fabrication can boost your bottom line, increase production rates and lower operating costs all while delivering top-tier parts.
Communication is another aspect to consider, as this element often foresees how seamless the process will be. There should always be a clear flow of communication during each phase of the process, from design, prototyping and cutting to fabrication, assembly and delivery.
Customer-Focused Service
Choosing a metal fabrication company to partner with goes beyond their capabilities, experience and prices. When it comes to a solid partnership with a collaborative nature, customer-focused service is one of the leading factors to consider when choosing a contract manufacturer.
Laserfab goes beyond superior fabrication services like laser and waterjet cutting. Our team of experts works with you to create a positive experience that accommodates your unique needs, budget and timeline. We start with the basics by understanding your requirements and the challenges you currently face. From there, Laserfab delivers innovative solutions. We provide personalized services to ensure a smooth process that results in exceptional parts.
Our team prides itself on exceptional customer experience through a partnership that yields top-quality products. We are highly skilled craftsmen that are customer-focused and aim to deliver dependable value.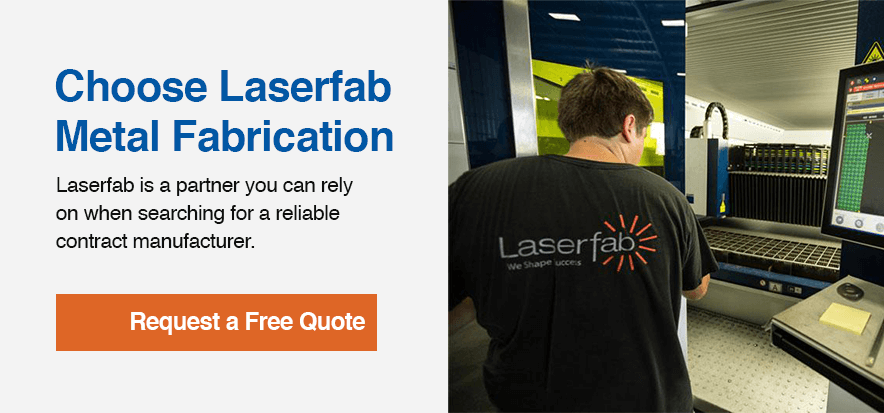 Choose Laserfab Metal Fabrication
Laserfab is a partner you can rely on when searching for a reliable contract manufacturer. We collaborate with you to get your products to the market with accurate processes and quality parts. We become an extension of your production team to craft parts that will seamlessly integrate into your operations.
Learn more about Laserfab's metal fabrication services, or request a free quote online.