How to Reduce Laser Cutting Costs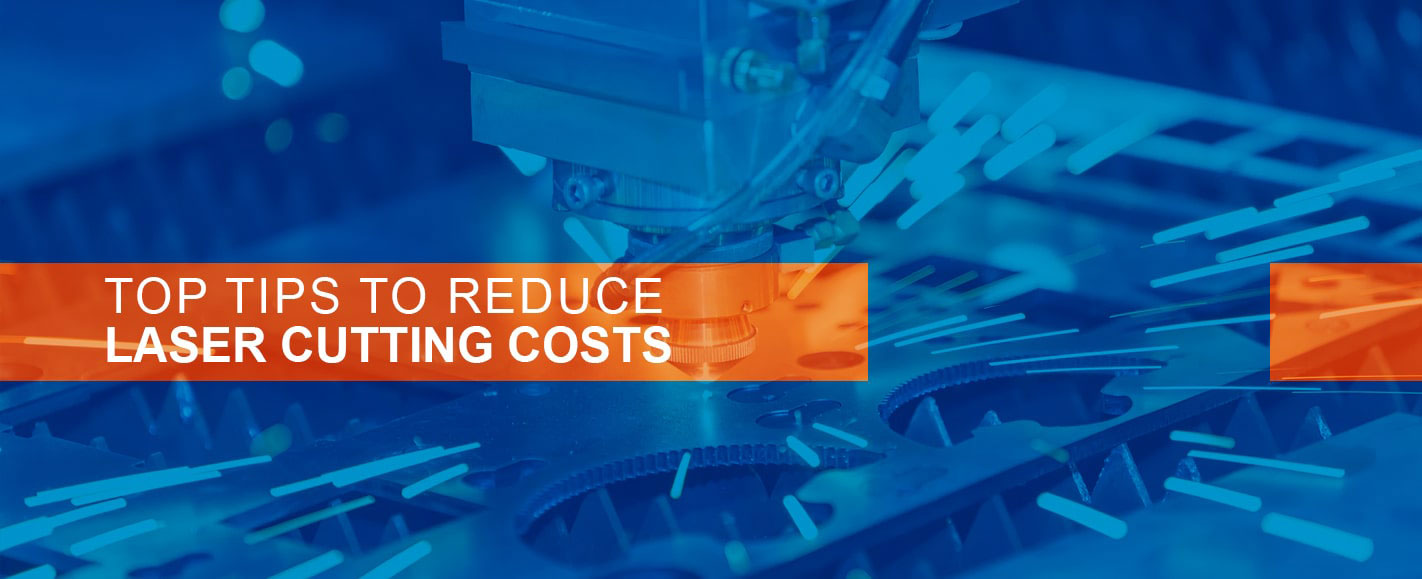 Laser cut parts are useful to many sectors, and the precisely cut two-dimensional pieces function as machinery parts in industries from industrial baking to the medical field. However, many companies are unaware that their laser cutting costs, despite the production, could be significantly reduced by simple, alternate choices and communication with their laser cutting provider.
Laser cutting is a powerful method of piercing material with a laser beam to melt or destroy the material in a precise line for a clean finish. Many companies, small businesses, and industrial organizations choose laser cutting because it produces barely perceptible edge effects from the cutting, unlike many other methods.
With a tolerance of +/- 0.005 of an inch, laser cutting production fits particular specifications and accurately delivers a piece's details the first time. Time is an essential factor in laser cutting, but the overall turnaround of the operation is rapid. Versatility in size and metal material is another benefit of laser cutting machinery, although these do have differences in price.
Properly preparing your company's design files, material choices and course can reduce the price of this incredible technology. Several components in laser cutting, like time, make the production more speedy and effective. Check out our top tips to diminish your laser cutting costs.
Is There a Difference Between Fiber Lasers and CO2 Lasers?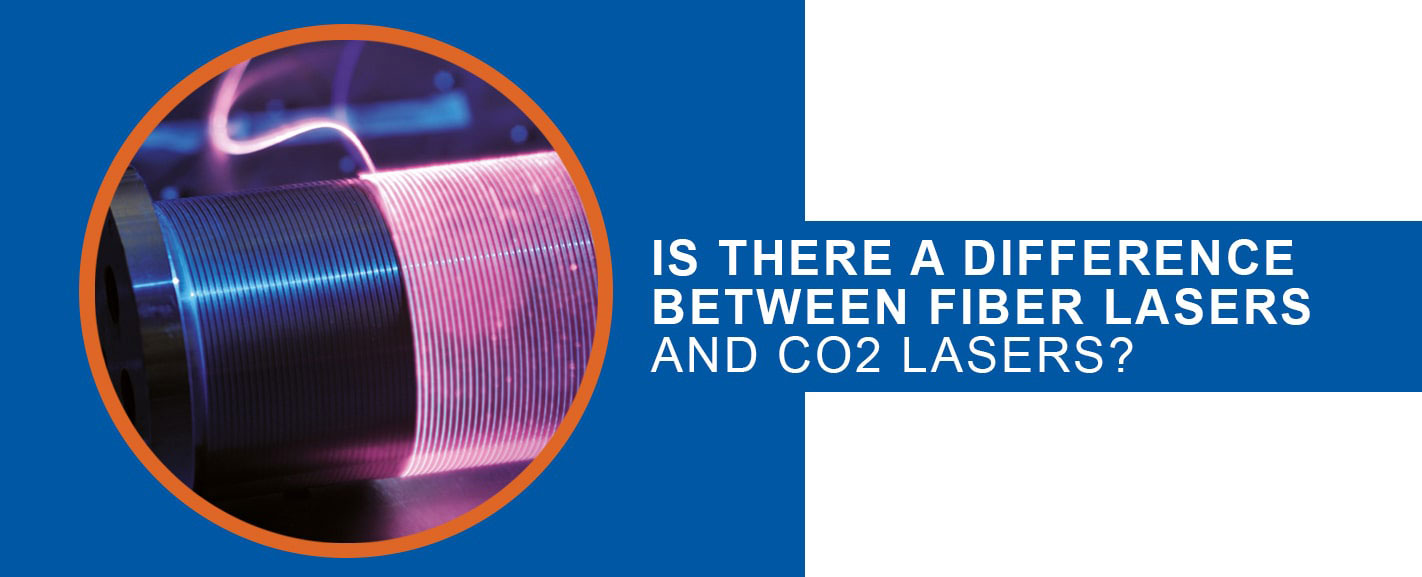 The two main types of lasers that penetrate metal to produce exceptional machinery parts are fiber lasers and CO2 lasers. CO2 have the advantage of superior edge quality and reduced burr on aluminum plate. Fiber lasers are the rising innovation in the laser industry. The fiber laser beam is especially beneficial in metal cutting due to its non-reflective beam. It cuts more quickly than its alternative, which you will come to find is directly related to the expense of these projects. If your laser cutting company's machinery uses fiber lasers, then it is likely be able to cut the greatest variety of metals.
1. Outsource Laser Cutting to the Experts
When a project requires a precise cut that only laser cutting can accomplish, a do-it-yourself direction may be the first impulse. However, on-site laser cutting involves expensive investments in equipment, thorough training and inconvenient maintenance. Rather than mastering laser cutting and facing these obstacles, lift the burden of these complications by outsourcing to experienced companies.
The equipment is substantial in size and cost. Purchasing laser cutting machinery, depending on the size and nature of your company, will likely not be reused enough to cover the costs. Necessary on-site space is infringed on, and employee training also halts the production process. Using a specialized outside team to perform the work saves space, time and money.
The machinery also demands regular upkeep, which raises costs even higher. Safety for your work space and the condition of the products require this maintenance, but the drawbacks of further expense, repairs and effort point to another solution — outsourcing. Enlisting the help of workers skilled in this area will expedite your project and reduce the cost. They are familiar with the best practices in laser cutting, already knowledgeable about this task and able to maintain the equipment elsewhere.
2. Create a Prototype
For those new to laser cutting and submitting designs for the first time under this process, it may be difficult to imagine what the end product will look like. Before even placing a small order to examine the design, a simpler and more cost-effective option is available. Construct a prototype of your design digitally, on paper or with a sturdier disposable material. The appearance of your design will be easier to tweak or simplify once there is a mock-up involved.
Ordering the full quantity of a laser cut product without refining the desired outcome produces regret and drains the company bank account when you have to place another order. Print the design from a computer onto paper with the correct measurements and spacing between the two-dimensional shapes to examine the problematic points that might cost you more money in production. Even digital models can be useful because you can use the capabilities of design software to alter small-scale issues.
Performing this preliminary test from the office increases confidence in the result and reduces any costs working out kinks that are caught early. This cost-effective preparation is wise, but it is simply one step closer to the high-quality outcome of laser cutting technology.
3. Maximize Cutting Time With Deliberate Details
Efficiently using laser cutting time and limiting the cutting path to only the effective working option rather than any invalid paths will conserve money and resources. Perforation choices and the design parameters alter the cutting time. Specific details, without extraneous lines, curves or overlap will conserve funds. Each cutting pattern takes a different amount of time to accomplish, but several basic functions can be exchanged for similar cuts to distribute production time where it is most needed.
The longer the lines in your design are, the longer they take to make, which becomes more expensive. Check out these line differences to revitalize your design for a more cost-effective production process.
An influx of lines will take extensive time to complete. Maybe your design will function well without the presence of such detail. Can you remove certain lines and retain the appearance?
Lines and sharp angles take less time to cut than rounded edges. Are circular lines unavoidable with this product?
Shorter lines save time and money. Longer lines require more time to cut. Can your longer lines be transformed into shorter ones while keeping your design intact? Or are they essential to the design?
A common mistake is to double cut lines or fail to combine edges that are close together. If a line overlays another in the design file, the laser will double marked the area. The extra cut counts as an additional line and further time and costs in the process. Reviewing your digital prototype and the design file prevents the overcut lines in the product. Most design software contains shortcuts for removing overlap by combining shapes and lines into a single object without designating a separate path for each line.
4. Consider Sheet Metal Type and Thickness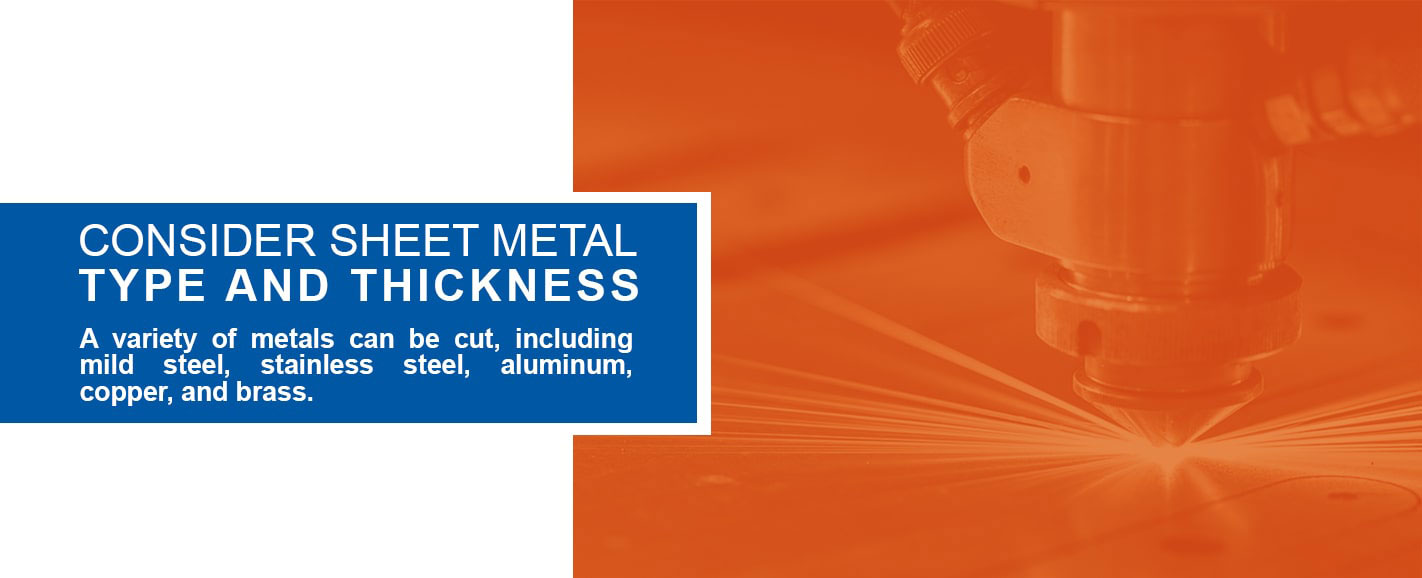 A variety of metals can be cut, including mild steel, stainless steel, aluminum, copper, and brass. The thickness of the metal you select can alter the edge quality of the cuts, but most importantly the thickness of the metal determines how quickly the beam can cut. Each of these metals has an optimal cutting thickness that displays the most stable and untainted cut possible with minimal warping or variation.
If you select a thicker, more dense metal, then the time your laser cutting company spends on your design will increase. If that metal is necessary for your project, a thick metal paired with a simple design may balance out the cost. You must prioritize the factors that are most important to your company and the productivity of your task in many cases. Balance the thickness of the metal with the other aspects and the goal of your project.
The materials take up a large amount of the cost to buyers compared to the previously mentioned tips. Consider which metal functions best for your purposes and keep in mind its place in the cost calculation.
5. Place a Small Order at First
Once you have settled on a simplified design and have an idea for the material, a small trial run of the exact supplies and design can reduce extra expenses before placing a substantial order. If certain aspects of the design cause you to hesitate or you would like to test out multiple metals, small orders will present the possibilities of several kinds of metal and the accurate implementation of your design.
Any complications that arise in a small trial order will cost less than purchasing several big sheets of metal and realizing your specifications should have been different. A small order of unfamiliar metal will hold less risk than relying on a full initial order. Once you are sure this metal is the fit for your intentions, the complete order can follow the small order.
Beginning with a limited order will allow you to witness the difference the kerf makes on your product, depending on the kind of metal used. Fiber laser systems expertly handle metals, like stainless steel, aluminum, and others. Your expectations should not go without testing, though. Consider how you would like the end pieces to function and appear — then compare the first round of products from your small order with the necessary components.
6. Optimize Space by Grouping and Nesting
Laser cutting carves lines on sheet metal that are often spread out, with similar design elements and edges. However, eliminating empty segments in the design file dramatically diminishes the cost, in a similar way to avoiding double cut lines.
Reduce waste and scrap metal by increasing the usable portions of the sheet of metal. Filling the whole sheet of metal with the desired product is the ideal outcome. Wasting minuscule scrapings and debris is an inevitability most of the time, but more substantial portions of scrap metal can become more profitable pieces for your company. Grouping and nesting are two variations of this principle.
Grouping the pieces just clusters them for efficient laser work. In general, the less distance the laser head must travel to make the next cut and the less scrap metal produced will keep more money in your pocket. This method is a simple way to create more space on the sheet of metal, and it accommodates circular cuts more easily than nesting does. Rounded lines, while expensive, may be necessary for your project. Positioning the shapes as close to one another as possible will still save you money.
Nesting is a more specific technique to reduce waste. This method rearranges the pieces to be cut so that they share common edges and create little excess space for optimal shapes. When complementary lines are placed together, the edge of two different shapes becomes one affordable slice. Nesting is another reason why you should consider finding the straightest lines for your desired products because exact lines and angles are more likely to coincide for a common edge.
Nesting is a complex ordering process that will require experienced help. Contact an expert to receive assistance and tips on how to condense your product elements into a smooth journey for the laser head.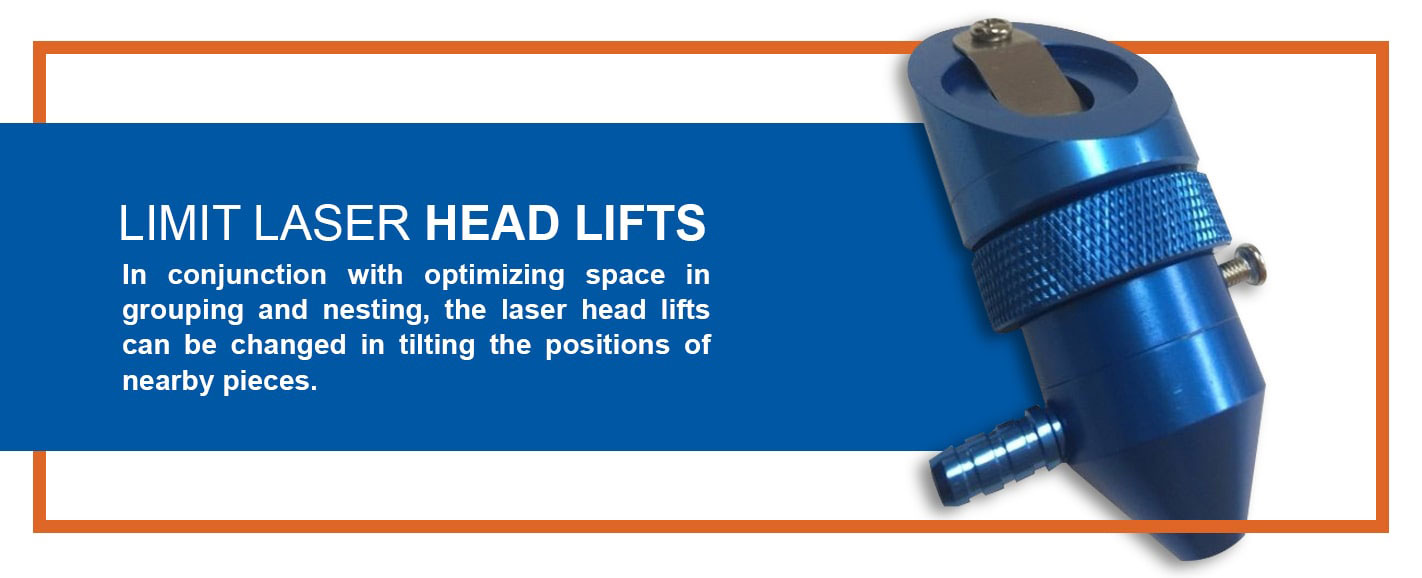 In conjunction with optimizing space in grouping and nesting, the laser head lifts can be changed in tilting the positions of nearby pieces. The laser head lifts to avoid damaging the new cut piece and aims to steer clear of any collision. However, in most cases, this is unnecessary and consumes time. The laser head, with tweaked specifications, could perform more productively by spinning around pieces or shapes in the design file to line up the cutting path.
If the project can work seamlessly without any lifting from the laser head, then significant time is conserved and more pieces can be produced in the allotted time span. The laser head should still avoid the completed cut, but with reorganized pieces, this should be doable and prevent wasted movements.
Other paths can also be changed in production, such as laser drilling paths. Cutting holes with the laser technology depends on the strategy and the thickness of the metal, and the pulse mode puncture method takes the most time and, of course, costs the most. Quick puncturing is extremely fast but sustains rougher edges. Communicate these preferences to your third-party laser cutting company if your project requires unique path changes, like drilling or hole placements. Collaborate with an engineer to find the best method for your vendor.
Final Cost Cutting Tips
Cutting down on production time and increasing intentionality in design files will reduce the cost of your custom-cut pieces. Adjusting the orientation of your design if multiple pieces are manufactured will also diminish wasted metal and extra time. Build confidence through preliminary tests of your design to place your order knowing it will be the right material with clean edges. Overall, your project should be finished sooner than ever before at a lower price after you apply these pieces of advice.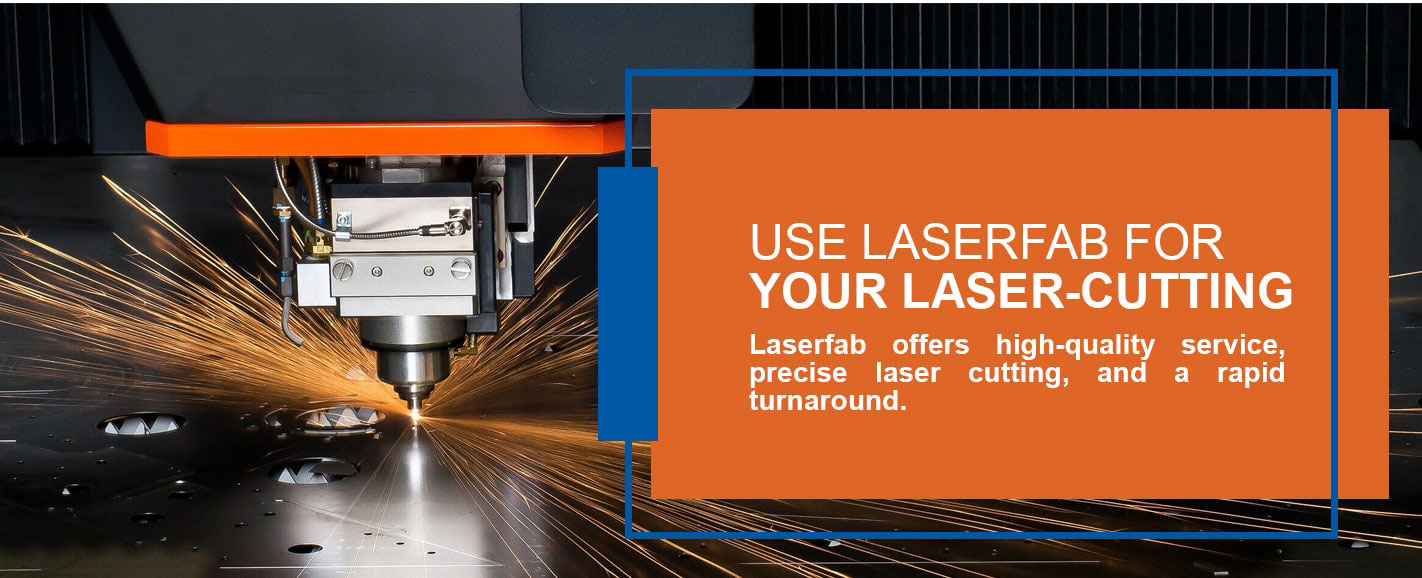 Laserfab offers high-quality service, precise laser cutting, and a rapid turnaround. With our expert laser cutting and fabricating professionals and advanced technology, we efficiently produce custom parts that your industry needs. We do not use direct-drive pumps, and we continually invest in the latest technology. Laserfab will help you select the best fabrication method to form your pieces.
Our equipment includes a variety of fiber laser machines that are sure to complete cost-effective and timely project specifications. The laser cutters include dependable software to properly achieve your particular wishes. Laserfab also stocks 22 gauge through 1″ in steel, stainless and aluminum, and offers copper, brass, and bronze sheets for laser cutting.
Laserfab is experienced in laser cutting for several commercial industries, including architecture, agriculture, industrial rack, medicine, manufacturing, industrial baking, chemical mixing, nuclear, power and wireless communication. We service a wide range of industries, but our company also fits into a manufacturer's supply chain operations.
Request a free quote today for your laser cutting needs. Local delivery is available.